February 20th, 2017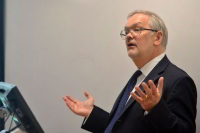 Ashley Lait interviews Professor Sir Charlie Bean, former Deputy Governor of the Bank of England.
Charlie Bean is a professor of economics at the London School of Economics and former president of the Royal Economic Society (2013–15). He was deputy governor of the Bank of England from July 2008 to June 2014. Prior to that, he was executive director and chief economist from October 2000. Charlie has also held positions at HM Treasury and Stanford University. In addition, he has published widely — in both professional journals and more popular media — on European unemployment, on European monetary union, and on macroeconomics generally.
AL Where did you first study economics?
CB I did economics as a subsidiary subject at school (my main subjects were mathematics, further mathematics and physics). I started out by doing mathematics at Cambridge University but switched to economics in my second year after I had discovered that quantum mechanics was very beautiful and elegant, but I didn't have the foggiest notion what was going on!